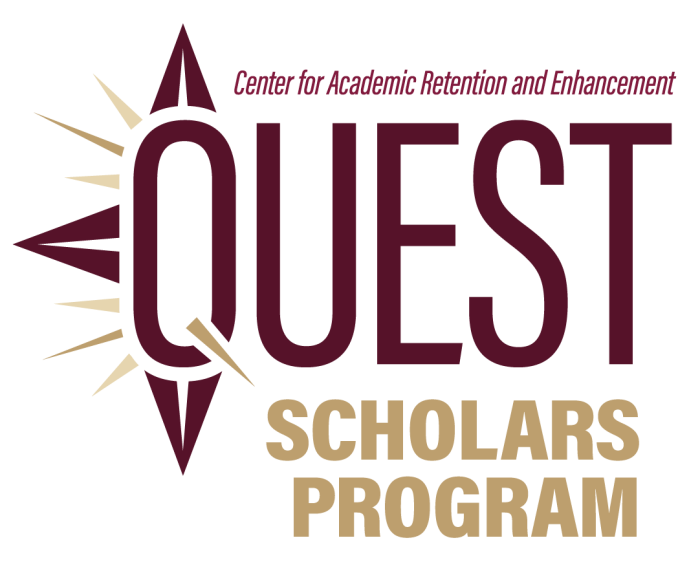 The QUEST Scholars Program of FSU's Center for Academic Retention & Enhancement (CARE) is designed to invest in students for their success at FSU and beyond. QUEST Scholars is an invitation only program, with selection occurring through review of admitted students' admissions applications. Students do not provide a separate application to QUEST Scholars. QUEST Scholars can expect to have access to transition, academic and developmental services to thrive at Florida State and set the stage for a positive post-graduation experience.  
Historically, CARE has focused on providing support exclusively to first-generation college students. However, QUEST Scholars is not limited to first-generation college students. The QUEST Scholars Program is a tribute to Horizons Unlimited, which was created in 1968 to engage and support students from underrepresented communities. Today, QUEST Scholars continues to support the mission of Horizons by embracing students with diversity in identities and lived experiences on their journey to attaining a college degree.
CARE Services 
As a CARE student, QUEST Scholars benefit from a number of services provided directly to CARE students. CARE provides academic advising, financial aid and financial wellness advising, tutoring, study rooms, wellbeing services, and specialized workshops on experiential learning opportunities. CARE students also have access to opportunities to attend conferences or explore graduate schools in preparation for life beyond FSU.
QUEST Scholars Experience
QUEST Scholars have a unique transition and development program designed to build community, gain skills and have an impactful FSU experience. The QUEST Scholars Program is a cohort-based engagement and development program that supports students in developing competencies and gaining experiences that promote thriving at FSU. As a QUEST Scholar, students receive a renewable scholarship each year for up to four years for engaging in the QUEST Experience. 
$4,000 scholarship, which will be distributed throughout eight semesters in $500 increments at the beginning of each fall and spring semester
Up to $2,000 in funding assistance for an experiential learning experience (one-time award) to support internships, undergraduate research, study abroad or service learning
YEAR 1
The start of the academic journey will begin with a Scholar Retreat focused on community building. QUEST Scholars will participate in QUEST Colloquium, an ENGAGE 100 experience focused on college transition and designing the college experience. Additionally, Scholars will have access to a peer leader as a resource and connector to opportunities. Scholars will also have specific social engagement opportunities for themselves and with University Faculty, Staff and Leaders.  
YEAR 2
Coaching is a vital service that many of the world's greatest leaders and professionals utilize. Quest Scholars will participate in coaching circles led by trained staff as a means to navigate college, find opportunities and develop competencies related to life and career. Scholars will also devote time to understanding themselves and others. Scholars will participate in exclusive career development opportunities. 
YEAR 3
Preparing for life after the  undergraduate experience begins in Year 1. However, QUEST Scholars are provided with services in Year 3 to enhance or jumpstart the preparation. QUEST Scholars will complete an emerging leaders program recognized by industry and educational professionals.  Scholars will also be exposed to mentoring by FSU alumni and friends to support exploration of career or graduate education options.   
YEAR 4
As the reality of life after FSU settles in, QUEST Scholars focus on transitioning out of FSU through a series of workshops and events. These activities will be led by experts in the fields of financial planning, career development, and life coaching. Direct alumni engagement with alumni associations and industry-focused alumni clusters are provided to serve as a bridge into graduate education, careers or new cities.