CARE ONLINE
Scheduling, tutoring, & academic support information to assist CARE students with online academic success.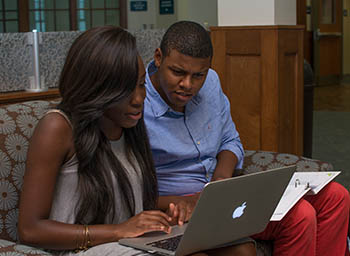 Academic Advising & Student Support Information
Information on appointment scheduling, office hours, advisor availability, and small group engagement activities.
How to Schedule an Appointment with CARE
Scheduling an Appointment with CARE Advisor in Campus Connect
Step 1: FSU students can access Campus Connect via the my.fsu.edu portal. Under myFSU links, click on the CC icon (the one with the handshake above it).

Step 2: From your Campus Connect homepage, click on "Schedule Advising or Tutoring" button at the top.

Step 3: Select Advising – Special Programs/Offices – CARE

Step 4: Select a specific CARE staff member or view all availability in the office.

Step 5: Select a date/time that works for your schedule.

You must include the reason for your appointment in the free response comments section.

Be sure to select to confirm your appointment before exiting the system.
You will receive an email confirmation for the appointment, as well as a reminder email closer to the scheduled appointment time.
CARE Staff Office Hours/Drop-In Advising Information
CARE Staff will host Office Hours/Drop-In Advising on the days/times listed in the schedule below. To join the office hours, you will click on the link provided to join the Advisor's Office Meeting Room. As these are virtual office hours, Advisors may already have someone meeting with them, so please give them time to start your meeting once they finish with their previous meeting.
CARE Advisor Office Hours/Drop-In Schedule
ACADEMIC ADVISING & SUPPORT

Advisor

Email Address

Office Hours/Drop-In

Office Hours Link

Sherrina Lofton

Monday - Friday: 9:00am – 12:30pm; 1:30pm – 4:00pm

Randi Hill

Monday-Friday: 9:00am-12pm; 1:00pm-4pm

Osei Nyahuma

Monday - Friday: 8:30am - 9:30am, 10:30am - 11:30am, 12:30pm - 1:30pm, 2:30pm - 4:30pm
FINANCIAL AID

Advisor

Email Address

Office Hours/Drop-In

Office Hours Link

 

TBD

Fa-CARE@fsu.edu

N/a

N/a

 
STUDENT SUPPORT SERVICES (SCOPE & STEM)

Advisor

Email Address

Office Hours/Drop-In

Office Hours Link

 

Roxanne Simpson (STEM)

Monday: 10AM – 12PM, 2PM – 3PM

Thursday: 10AM – 12PM

 

Pauline Muturi (STEM)

Tuesday: 12PM – 3PM

Thursday: 1PM - 3PM

 

Dr. Frank Campos (SCOPE)

 

 

 
UNCONQUERED SCHOLARS PROGRAM

Advisor

Email Address

Office Hours/Drop-In

Office Hours Link

Caitlin Cates

Tuesday: 1PM - 4PM

Thursday: 1PM - 4PM
COLLEGE SUCCESS PROGRAM, ENGAGEMENT, T.E.A.M., & BRIDGE TO GRADUATE SCHOOL

Advisor

Email Address

Office Hours/Drop-In

Office Hours Link

Destiny Caldwell

dcaldwell@fsu.edu

Tuesday- Friday 10AM-3PM

Arnez Wallace

Mawallace@fsu.edu

Monday-Thursday 9AM-2PM
CARE LAB

Advisor

Email Address

Office Hours/Drop-In

Office Hours Link

Dr. Fabian Tata

Monday 8PM-10PM

Tuesday 11AM-4PM

Wednesday 9AM-2PM

Thursday 1PM-4PM
How to Join a Zoom Advising Meeting
Zoom Meeting will place you in a waiting room until your advisor accepts you into the meeting.
While in the waiting room, please remain by your device, with your volume turned on, and be prepared to begin as soon as you are accepted into the meeting room. Note: Advising appointments are scheduled back-to back. Your advising appointment time will be shortened if you are not ready to begin, as your advisor has other student appointments scheduled.
Once the advisor has accepted you into the meeting, the meeting room interface (shown below) appears. Once you begin your video, you will see the advisor's video, desktop, or other presented materials here as well.
Virtual Advising 101
For comprehensive information on how to use Zoom for online/virtual advising, download the following instructions:
---
CARE Tutoring Information
Information on scheduling and attending online tutoring and supplemental academic assistance with the CARE Lab
Tutoring in the CARE Lab
Tutoring Schedule
Tutoring is available through the CARE Lab via zoom. A select number of tutors are also available for in-person support in Thagard. To access our virtual tutoring, please visit our virtual CARE Lab Front Desk at https://fsu.zoom.us/j/98114977541. 
---
SSS-SCOPE & SSS-STEM Online
SSS-SCOPE & SSS-STEM are still active and engaging while we work online. View information on activities, events, and resources for SSS-SCOPE & SSS-STEM during this online experience!
Upcoming Activities
SSS ACTIVITIES Summer 2020

Stay tuned for more SSS-SCOPE & SSS-STEM ACTIVITIES during Summer C 2020

​

 

 
 
---
Online Resources
Resources to support your academic success while working online.
Coronavirus Information
Student Guide to Learning Online
Additional Study Resources
Zoom Support Resources
---
Engaging While Online
The Division of Student Affairs empowers and supports all students to achieve their full potential, and our departments continue to support students through the transition to remote classes during Spring 2020. For information on how you can engage and connect to out-of-classroom experiences while taking classes online, go to https://studentaffairs.fsu.edu/virtualfsu/.
---
Your Wellness & Mental Health
Florida State University has a variety of online support programs and services to assist students with their wellness and mental health during our online period. View some of the support resources below!
Telehealth Services
TeleMental Health Services
CHAW Virtual Connect
Active Anywhere with Campus Rec
title-inside title-centered
2